Spring cleaning is a fun idea for seniors to pursue. Here are some tips to make for an effective spring clean.
Seniors will find a way to keep themselves occupied in retirement and one of those prospect activities is to clean the home. Spring cleaning, in particular, is a fun idea to pursue, even more with a loved one at hand.


Benefits of spring cleaning
There's much to look forward to in a very thorough spring cleaning.
Physical and mental workout. A cleaning day challenges the resident to work harder in making their humble abode as tidy as possible. It also gives them a sense of purpose to get through the day. A study by a leading appliance manufacturer even noted that given the current climate of spending more time at home through remote work solutions, 29 per cent of Australians find cleaning to be obsessive.
Improved air quality. Decluttering and cleaning your home bolsters the place's indoor air quality by removing items that may be harbouring germs and other contaminants. Dust contamination may also be reduced through vacuum cleaning and emptying their cylinders outside, and washing old carpets and rugs.
Savings. Stripping out old items such as drapes, fabrics, and furniture may help save residents a handy amount in maintenance expenses, particularly in furniture and upholstery.
Emotional connection with loved ones. Bringing your loved ones over to help in the cleaning is another chance to reaffirm ties. This is true when the family has planned out the cleaning workload and coordinate their duties, then finish up the day with a fun meal or other social activity.


Stripping away the gunk
Evaluate your home space to identify the most disorganised and cluttered locations, then plan which to tackle first. In taking care of the clutter, some things can emerge as worth disposing of.
Medicines. Check the expiry dates on each medication and make sure to throw them all, even those you may have never taken but are a few weeks or months out from the date. These can include prescription items your doctor has formally cleared you from consuming.
Clothes. A closer look into your wardrobe can reveal clothes you have never worn in a long time and be better off for donation to a used-clothes shop — ofcourse after a decent washing.
Food. Check your cupboards for food items long past their used-by date and put them in the trash. Same thing applies for leftovers that are still in the fridge. If you have a sustainable garden, spoiled food can be repurposed as compost, such as coffee grounds, rotten vegetables, pasta and stale bread. Meat and dairy products are better off in the trash, as they emit foul odours when spoiled.


Organic spring cleaning products
Make sure the cleaning solutions you use are made from all-organic compounds, as some commercial products contain noxious fumes and synthetic compounds that may irritate exposed skin.


Protective gear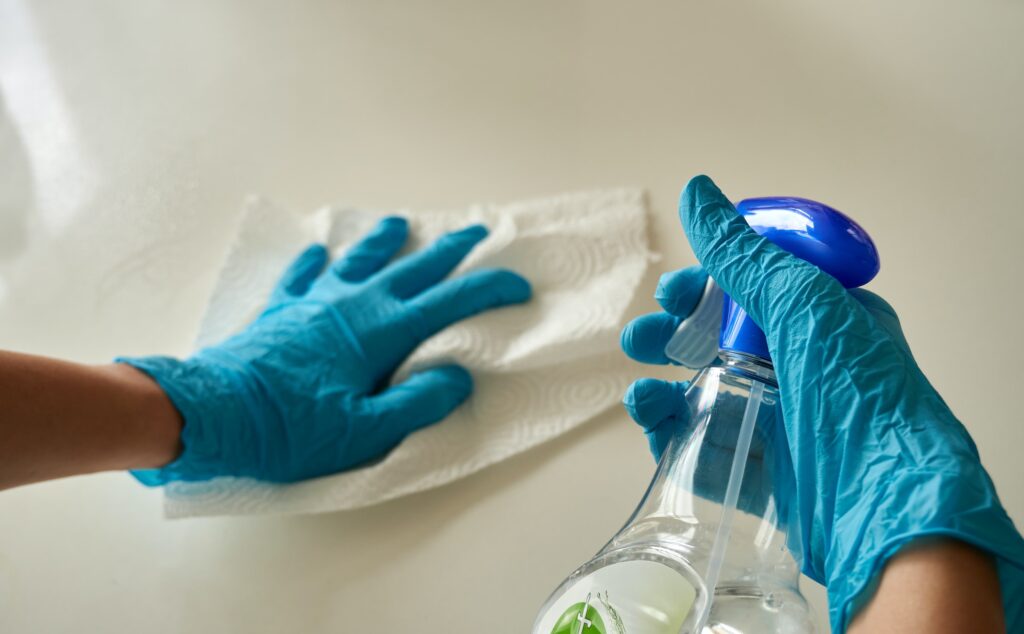 Safety will be paramount for your cleaning work. To that end, don protective equipment such as gloves, safety goggles and face masks.


Replacing furniture
Furniture can add appeal to a home, but can show much wear and tear years down the road even with cleaning. Consider tapping a junk removal service if you have worn-down furniture while planning ahead to buy new items.


Bathroom
Take the time to fully scrub the bathroom of grime and scum, while disposing of expended toiletries, right down to empty shampoo bottles. Replace any bathroom matting as well, especially if they've been in place for a long time. It may be a good time as well to recheck the plumbing for leaks that bring in moulds from dripping water.


Technology is your friend
Invest in home cleaning technology such as robot vacuum cleaners, cordless vacuum cleaners, and brooms and dustpans with long handles. The latter options have the added benefit of reducing back strain from having to stoop down. Air purifiers also work in cleaning the air of harmful matter.


No heavy lifting
Some furniture and appliances may require moving to clean their spaces. Seniors are often advised not to move it themselves to avoid further straining their bodies, warranting a need for added muscle.


Clear paths
When doing a major seasonal cleaning, take care to remove clutter that could block important pathways, even more when you are tackling at least one room for the day. Any garbage bags that are already full should be taken out of the house and binned before heading back inside to resume cleaning. All tools, containers, and even slippers must be out of the way to avoid tripping.


Help always wanted
While Australian seniors value living alone, it's always fun to bring along trusted companions such as your loved ones to help you in the cleaning effort. Aside from the efficiency and turnaround time from added support, the presence of familiar people helping out adds benefits to your mental wellbeing.


The ASAG Reverse Mortgage can help with your spring cleaning efforts
A major character in a drama series once quipped, "nothing but a good spring cleaning." For seniors, keeping the home spotless brings more positivity to their physical wellbeing and tranquillity.
The ASAG team hopes that our equity release solutions can help improve the lifestyle of Australian seniors by unlocking the wealth in their home. And one of these solutions we offer is our reverse mortgage.
The ASAG Reverse Mortgage funds can be used for your objectives as you retire without the hassle of ongoing payments. Although you have the option to make voluntary repayments at any time without penalty. The cash you receive can be drawn down for any purpose you see fit, including Day-to-Day Expenses.
We are happy to assist you with more details on how our reverse mortgage works. Our lines are open on 1300 002 724 and at info@asagfirst.com.au for you to call or send enquiries about our equity release solutions.
You can also get started by using our free tool below to assess your available equity.